Welcome to our Website Design Showcase.
To Navigate the Showcase, simply click on the BLUE QUICK VIEW button over the design you would like to see in DEMO mode.
To return to our Showcase, or observe how the design would display on a mobile device, or tablet device, just use the navigation controls in the lower right corner of the web page.  Clicking "X" will return you here to our Website Showcase.   All of these designs are optimized, and responsive to the device used while viewing the website. 
If you see a design you like or portions of the design, please make a note of it and let us know.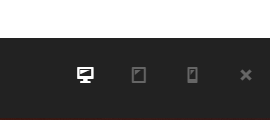 Website Showcase Navigation Controls – Lower Right Corner of the Web Page
One on one personalized custom designs
Bring Your Business to Life Instantly
Are You Ready to Join The Club?
Get a free quote from one of our consultants to discuss which option would work best for your needs